The Welcome Days, integration days for international students, take place twice a year: in September and in January. During this period, the University offers a program rich in discovery and conviviality. Freemovers and exchange students can take advantage of these days to discover the University, the city of Lille, and the French culture.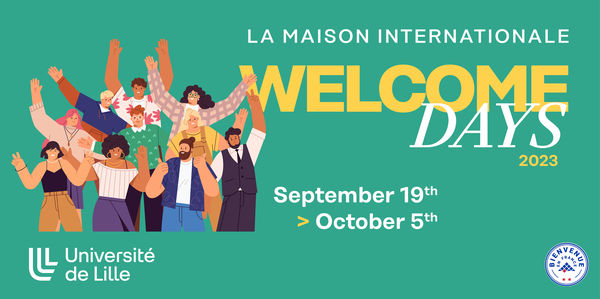 For this new academic year, Welcome Days will be held during the months of September and October. On the program: an opening night, cultural visits (exhibition, Lille,...), a game night, an intercultal day, and other festive moments... for international students, but to which everyone is welcome! Find out what the Maison Internationale and its partners have prepared for you...
Welcome Days - September 2023
Welcome Days - Octobre 2023
Fancy spending a chill evening playing board games while meeting other international students?
The Maison Internationale opens its doors to you from 4.30pm to 7.30pm and offers a range of games (don't worry, we'll explain the rules too!) so you can spend a pleasant evening together!
Free entry without registration.
Organised by the Hello Lille agency, in partnership with the University of Lille and the Catholic University of Lille, this welcoming party is throwned especially for you, international student who has just arrived in Lille! You will find out more about the region's many assets, and hear from former students who, like you, spent part of their studies in Lille... But there will be plenty of other surprises for you!
This evening is part of a major event bringing together local gastronomy and brasseries - the Lille Street Food Festival - to which you are invited. So best to make the most of it!
See you on Thursday 5th October at Euratechnologies.
Free entry on registration : (link to come)