Activities at the Maison Internationale
The University of Lille offers a program rich in events and activities to facilitate your welcome.
Our event program
Each year, the Maison Internationale offers a range of events from September to May for all students.
A look back at the city's visits
The Maison Internationale organised two tours of the city of Lille by bike and scooter.
The students were able to discover or discover again the beautiful city of Lille in a sporty way.
New activity planned: Visit to the Moulins d'Ascq brewery
Want to know more about the local culture?
On 10 November at 6pm, Maison Internationale offers you a visit to the Moulins d'Ascq brewery in Villeneuve D'Ascq, created in 1999 and a place where local and artisanal beers are made.
If you come, you will discover how the beers are produced, the history of the brewery and you will have the chance to taste several beers.
So don't wait and register as soon as possible before there is no more room! Registration required.
For more information, write to: maison-internationale@univ-lille.fr
The welcome days take place twice a year, in September and January on the various campuses of the university.
During this period, the university offers a program rich in discoveries and conviviality.
Students who come individually and on an exchange program will be able to take advantage of these days to discover the university, the city of Lille, and French culture.
Let's meet from the 21st of January to the 3rd of February 2022..
More information to come on the Welcome Days website.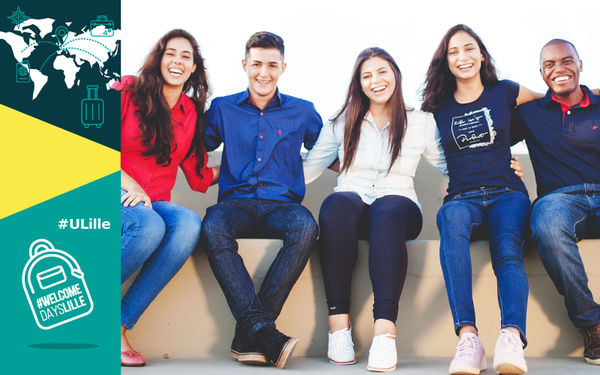 With 9,500 students coming from all over the world at the gates of Belgium, the Netherlands, Germany and the United Kingdom, the international openness of the University of Lille is much more than a specificity. This asset and this state of mind is what International Student Week celebrates and celebrates every year in November.
Information meetings, testimonials, conferences, café-languages, photo exhibitions, gastronomy ... For a week, let's take advantage of the many meetings, discuss and exchange together in a friendly atmosphere, get to know each other and discover the partner universities of the University of Lille. Students, staff, teachers, researchers, all mobilized for the occasion and to enthusiastically propagate the dynamism and intellectual influence of the University of Lille!