International Credit Mobility in Georgia
Project introduction
The strategy of the University of Lille towards the countries of the Eastern Neighbourhood area started a few years ago in the framework of the Erasmus + Action 2 programmes. The University of Lille was a partner in the IANUS consortium led by the University of Iasi in Romania. This project made it possible to set up numerous cooperations with countries bordering the European Union, such as Ukraine, and Caucasian countries such as Georgia and Armenia.
The partnership with this country started under the Erasmus+ Action IANUS programme. Numerous student exchanges have been organised with the Tbilisi State University, revealing the high academic quality of this country. Since the implementation of the ICM project, the University of Lille has been applying for funding to enable the mobility of Georgian students. The students are English-speaking and attend courses in Faculties offering courses in English, notably the IAE and the FSJPS. The strategy of the University of Lille is to maintain these mobilities which are very beneficial to Georgian students. The University of Tblissi has increased the internationalisation of its operations and its training offer thanks to European programmes.
News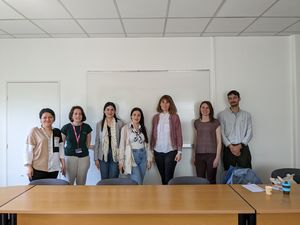 From 5 to 9 June 2023, we had the pleasure of welcoming two colleagues from the International Relations Department of Ivane Javakhishvili Tbilisi State University (TSU - Georgia) - Mariam Razmadze and Marina Kvirkvaia.
This visit is part of a Staff Week organised by the University of Lille, as part of the European AC107 project obtained in 2020 with TSU.
The programme included exchanges of best practices, meetings with partner faculties and visits to the city and the University's major facilities.
This Staff Week was an opportunity to strengthen the existing cooperative links between our institutions and to contribute to a better understanding of our respective challenges.
Particular attention was paid to the theme of Inclusion during a meeting on the management of European AC171 projects, in order to define common eligibility criteria for the project's Inclusion grants.